Archive for
First stop: Vollis Simpson; Lucama, NC
Mr. Simpson's site is slowly being dismantled, the sculptures are being restored and relocated to a dedicated park in nearby Wilson, NC.   (Vollis Simpson Whirligig Park) One of the great American folk art environments, Mr. Simpson's 'Whirligig Farm' has been a yearly constant in my travels, and just in time for it to disappear, I was starting to have success photographing it from dusk into the night using a combination of flash and large 'spotting' lights.  Even in daylight, the many applied reflectors pick up light sources like glitter.  This technique opened-up a whole new range of possibilities for photographing his work, and the sudden 'here for decades– gone tomorrow' time frame put extra urgency into this project.  For his part, the 91 year old Mr. Simpson expressed frustration over the slow pace of restoration process, and the planned completion date for the new park and museum.
| | |
| --- | --- |
| | |
| (2010) | (2010) |
Mr. Simpson invited me back over to the outdoor studio area at his home– about a mile from the main site, and where he does the painting.  He also let me hang around his on-site workshop for several hours on a rainy day and to photograph him (with flash) repeatedly while he kept a constant eye out on a stray dog he had been feeding.  The dog kept running out into the road and Mr. Simpson commented on how much more traffic there has been in recent years, and the tendency for drivers to speed by while talking on their cellphones.
A framed large print I had given him a couple years ago was in the 'gift shop' (presumably not for sale!) behind his work area.   Mr. Simpson has always been very grateful for the prints I've given him, and always remembers me when I show up out-of-the- blue about once a year.  He  had previously mentioned spending several hundred dollars getting my prints framed, and intends that they will be legacy gifts to his children.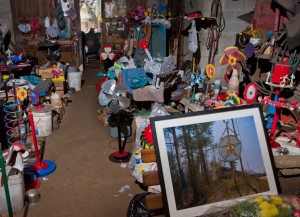 I like to imagine Mr. Simpson appearing on "What's My Line?"  This low-key, laconic man would probably appear the least likely candidate for: "I'm an irrepressible artist of exuberant whimsy who works on a monumental scale."  Mr. Simpson seems vaguely amused by all the attention he gets, and is a wonderfully surprising embodiment of the creative spirit.
__________________________________________________________________________________________
Second Stop: Robert Morgan; Lexington, KY
While visiting the Kentucky Folk Art Center in Morehead's permanent collection in 2010, I was especially taken by Robert Morgan's work.  Seen outside of that context, I might not have slotted it into the "folk art" category. Cheap mass-produced plastic materials and a more urban than "rustic" message help establish Robert's own distinctive territory.  The wall label showed that Robert was alive and middle-aged.  Thanks to Center Director Adrian Swain for giving me Robert's phone number, and the next day we arranged for a portrait shoot (prior to a Lexington Legends single-A minor league baseball game).  Robert's indoor art environment of a house was a jaw-dropping surprise as I walked through the door of his outwardly conventional ranch house (Adrian hadn't 'warned' me, and Robert says he wants it to be like a first peek into Tut's tomb).  I  returned later that summer to turn the 8×10 film camera on the bedroom and living room.  Robert simply left the door unlocked for me, and I worked for several hours (on those two quite difficult shots) before he arrived. (portrait 2010)
| | |
| --- | --- |
| | |
| (2010) | (2010) |
On this third (three day) visit, we primarily worked on video, but I also took some stills of the shrine:
Robert dislikes the "folk art" label, and chafes that the 'folk art industry' often perpetuates an idealized myth about simple country folk whittling away outside their cabins in the woods– while the back-story realities are often quite grim.  He cited The Wild and Wonderful Whites of West Virgina (2009 documentary about folk dancer/performer Jesco White and his extended family) as being a sort of myth-busting reality show.  Robert's work sharply engages contemporary times and culture in a way that certainly pushes it to the fringes of the "folk art" umbrella.
_____________________________________________________
Third stop:  Ron "Fish" Clifton; Ridgeway, VA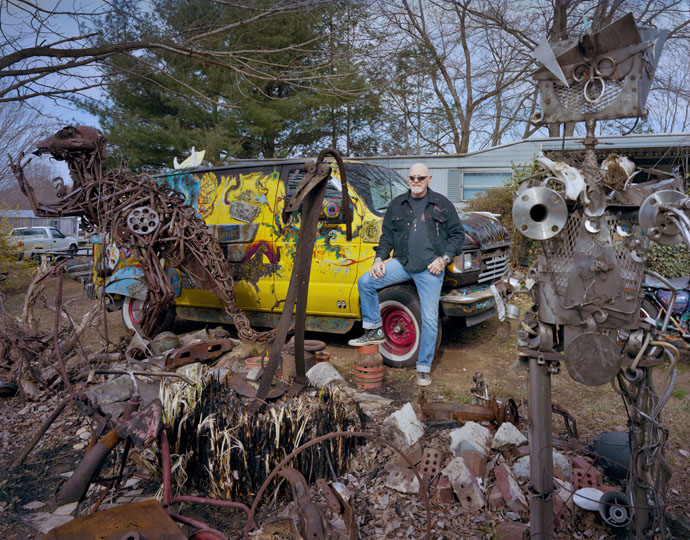 In addition to jewelry, sculpture, art bikes, and painting, the ever-creatively-restless Ron had produced an art van since my last visit in 2010.  A couple years ago someone had paid to ship his art motorcycle to Europe for exhibition, and this new van recently returned from Florida with a show award.  As usual, Ron patiently worked with me all day, in great humor, while I snapped away.
__________________________________________________________________________________________
Last Stop: Billy's Mountain Music; Bassett, VA
Billy Shelton converted his flea market into a free admission music hall and hosts 3-4 bands every Sunday afternoon.  Having stopped to photograph the building in 2007, Wanda (see below with Billy) came out to give me an inside tour and an invitation to come back for a performance.  Billy has created a whole community of people interested in music and dancing, and it has been a once or twice a year stop for me since 2008.  I've gotten to know many of the regulars, and they insist on treating me to the home cooking that precedes the festivities.  Always allowed to do all the photography and video I want, I simply send Wanda an email about a week ahead of my next intended visit, and the atmosphere of down-home fun and entertainment never disappoints.
Mr. R. D. Harris makes custom instruments from raw wood (see Billy and Wanda's above), and Wanda was able to put in touch with Mr. Harris for a couple visits in 2008/9.
| | |
| --- | --- |
| | |
| R D Harris (2008) | work of R D Harris (2008) |
one minute Billy's Mountain Music video
_________________________________________________________________________________________
15 Mar 2011
Junkyard Poet of Whirligigs and Windmills
(from 2011 visit)
1 Mar 2011
A 2007 Niagara Gazette article with a virtual tour of his house and the Mt.Erie Baptist Chuch
(from 2010 visit)
1 Mar 2011