William Thomas Thompson visit; Greenville, SC
We spent Christmas with the in-laws in Greenville, and the day before and after I was able to visit Mr. Thompson, and then again when we returned to Greenville in May for a family event.  He and Mrs. Thompson live in the Gassaway Mansion, and the family makes the first floor and grounds available for an events business. A fairytale castle location for a wedding reception– complete with an apocalyptic painter's studio way up in the turret!  (the upper floors are actually, of course, closed to the public)  Although Mr. Thompson's work spans a wide range of subjects and can be quite pleasingly pastoral, he is best best known for religious-themed canvas' that bring a biblical urgency to contemporary times. He produced a 300 ft Revelation painting that has been exhibited three times in distant locations, and has a 1800 square foot Seven Days of Creation painting on permanent display at the American Visionary Art Museum.  A nerve condition makes Mr. Thompson's painter's hands unsteady, but the urgency of his gestural marks underlines the biblically proportioned messages.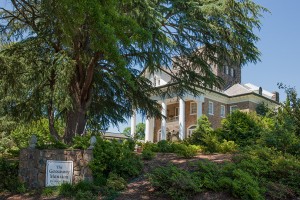 All non-photographic images in this post © William Thomas Thompson
(left: The Gassaway Mansion)
Up in the turret studio on large work table was a painting in progress about the 911 attack on Washington,*  and mounted on the wall behind, a multi-panel work on the Holocaust.  (*Mr. Thompson recently sent me the completed version):
Below the studio, and above the residence floor, Mr. Thompson stores his paintings in what was the mansion's ballroom.  The stacking and partial obscuring of the paintings didn't diminish their impact, and the cumulative effect of moving through the space was striking.  He gave me free rein and unlimited time to poke around and photograph in the art areas.  At lunch Mrs. Thompson identified Norman Rockwell(!) as her favorite painter and laughed about how "paintings don't pay the bills."
| | |
| --- | --- |
| | |
|   |  above: smaller version: seven days of creation |
An adjacent building to the mansion houses Mr. Thompson's collection of work by a number of artists he admires, and rarely have I heard one artist speak so highly of many other artist's work.  He has done a series of collaborative painting with Norbert H. Kox that combine Mr. Kox's more detailed and controlled style with Mr. Thompson's expressive urgency.  Two distinctive hands on the same canvas create a unified meaning that draws its cumulative effect from both.  As a visionary artist, Mr. Thompson's primary motivation comes from the message, and his enthusiasm for collaboration re-enforces that primacy.  He speaks very highly of Arizona artist Frank Bruno (whose website showing his elaborate and finely detailed, apocalyptic message-based paintings seems to be temporarily down), and despite the reassurance of wide acclaim, Mr. Thompson is reluctant to think of himself himself as an accomplished painter.
Back upstairs in the art havens, Mr. Thompson's office has a cosmos-painted ceiling and he maintains a personal website with daily journal entries.  The linking of cyberspace to the full vast universe of creation seems so fully appropriate for Mr. Thompson and his work.
William Thomas Thompson's website:   www.arthompson.com
William T. Thompson and Norbert H. Kox painting collaborations:  www.thecolorfulapocalypse.com
American Visionary Art Museum page on W.T. Thompson:  www.avam.org/our-visionaries/william-thomas-thompson.shtml
Raw Vision Magazine issue #33 with cover article on W. T. Thompson:  www.rawvision.com/articles/william-thomas-thompson
Outsider Art Info has many reproductions and additional information about Mr. Thompson:  http://www.outsiderart.info/WilliamThompson.htm