May 2014 Bill Brady Visit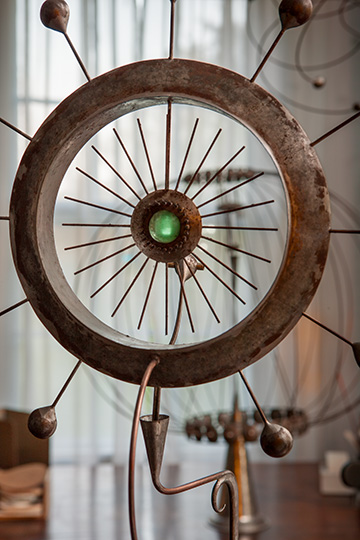 Bill is finishing-up his winter/spring "sculpting season" (one final sculpture in-progress) and will soon be cutting down a new load of firewood for the winter.  The all-glass enclosure around his sculpture studio gets too hot in the summers, and instead he works in the pole barn on his handmade single-engine airplane.
We took some quick pictures of recent sculptures in the living room window, and then continued our on-going video documentation while Bill worked on his final sculpture of the season.  All of Bill's sculptures are made from flat sheets of metal that he cuts, hammers, and welds into balls, circles, cones, and other shapes.
Bill's work is currently on display in "The Art of the Machine" at Kelly Run Gallery in Cambridge Springs, PA.
above: some sculptures on the dining room table           Bill Brady's dedicated pages
below: recent sculptures from 2013, 2014