Posts from the 'William Thomas Thompson' Category
I picked-up the paintings after arranging for Mr. Thompson's exhibition at my university's art gallery.  He and Mrs. Thompson made the long drive from Greenville, South Carolina to attend the opening.  Many students were enthusiastic about the show which has played to mixed faculty reviews– the 'outsiders' have begun to  invade the academy!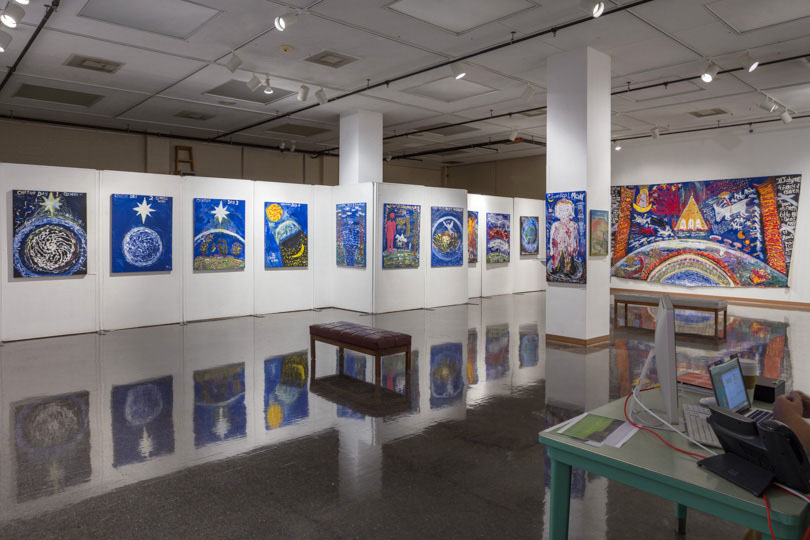 4 Oct 2015
We spent Christmas with the in-laws in Greenville, and the day before and after I was able to visit Mr. Thompson, and then again when we returned to Greenville in May for a family event.  He and Mrs. Thompson live in the Gassaway Mansion, and the family makes the first floor and grounds available for an events business. A fairytale castle location for a wedding reception– complete with an apocalyptic painter's studio way up in the turret!  (the upper floors are actually, of course, closed to the public)  Although Mr. Thompson's work spans a wide range of subjects and can be quite pleasingly pastoral, he is best best known for religious-themed canvas' that bring a biblical urgency to contemporary times. He produced a 300 ft Revelation painting that has been exhibited three times in distant locations, and has a 1800 square foot Seven Days of Creation painting on permanent display at the American Visionary Art Museum.  A nerve condition makes Mr. Thompson's painter's hands unsteady, but the urgency of his gestural marks underlines the biblically proportioned messages.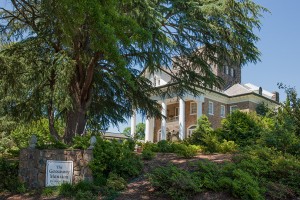 All non-photographic images in this post © William Thomas Thompson
(left: The Gassaway Mansion)
Up in the turret studio on large work table was a painting in progress about the 911 attack on Washington,*  and mounted on the wall behind, a multi-panel work on the Holocaust. Read more…
20 May 2013