James Beoddy; Columbus, OH visit
When he wasn't taking a smoke break on the back porch, Jim was helping his alter-ego Chimera finish up her magnum opus comic book:  Chim's Pookarama.  Among its various page-turning adventures is a tour through the history of comics through numerous drawing quotes of famous comic book illustrators.
Chimera uses Jim's left hand to create her paintings and drawings.  The "Colossus Project" (to scare off alien invaders) is the last page of Part I.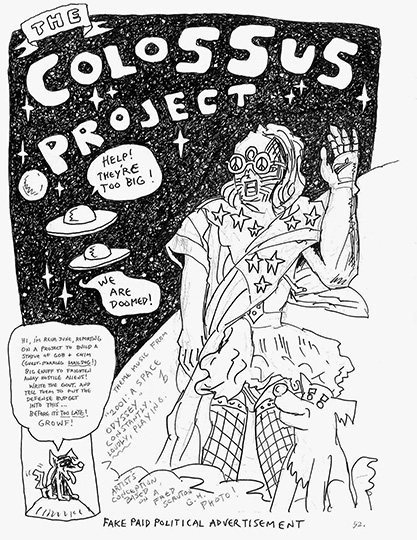 Jim's friends were very amused to see me literally rolling in the gutter (after only one beer), to get this shot of Jim after his Chimera/Goblinhood performance at Columbus' annual 'Comfest' celebration in June, but gutter seeds can sprout high:  the photo as drawn first by Jim, and then (while I was visiting) by 'Chim'– it was soon to loom large (see above)– in the planetary sense!
| | | |
| --- | --- | --- |
| | | |
| (by Fred) | (by Jim) | (by Chim) |
We also did copy photos of Jim and Chimera's recent paintings, including these two left-handed Chim masterworks:
(all non-photographic images & artworks in this post © James Beoddy)