Columbus, Ohio
A overnight roadtrip to visit James Beoddy, meet and photograph two Lindsay Gallery artists, and see their two-person show at the gallery.  Thanks very much to Duff Lindsay for arranging the photo shoots.
I had seen single Morris Jackson drawings twice at the Ohio State Fair (in 2008 and 2011), and was interested to see more of his somewhat bewildered-looking, but whimsical figures make their way through the world Morris has created around them.  After seeing my website, Morris 'warned' me that he is a pretty normal-looking fellow, living in a pretty conventionally-decorated house, but to me showing a seeming disconnect between the artist/environment and their work is just part of the documentary process.  Morris Jackson's Lindsay Gallery page.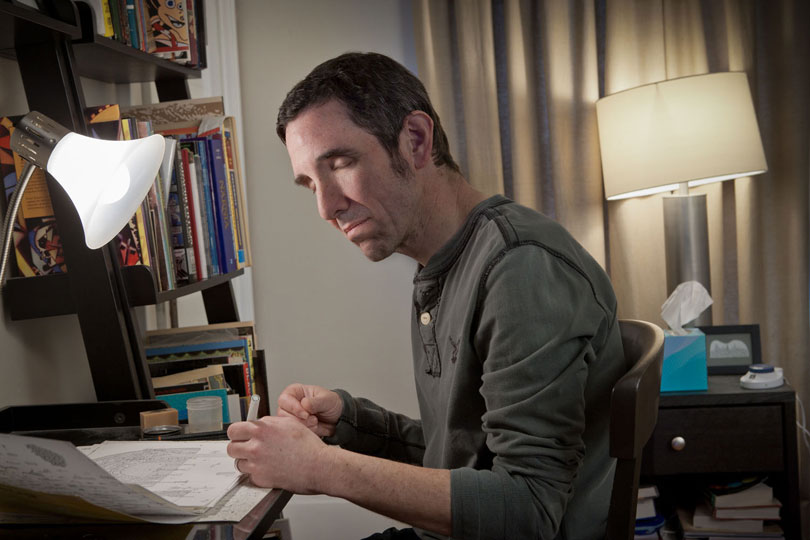 Morris Jackson conjures up his drawings from a desk in the bedroom.
| | |
| --- | --- |
| | |
| "Roundhouse" © Morris Jackson / courtesy Lindsay Gallery | "Lost in the City" © Morris Jackson / courtesy Lindsay Gallery |
Morris remembered seeing Jim Beoddy as Goblinhood– including a crucifixion performance years ago, and speaks highly of his paintings.
| | |
| --- | --- |
| | |
| from "Goblinhood's Comix & Poems"                       ©1994 James Beoddy | Goblinhood (in Jim Beoddy's backyard), 2011 |
______________________________________________________________________________
When I called from about half an hour away, Amber Groome warned me that high winds had caused a power failure in the neighborhood, and that all lights were off in the house.  My portable strobe lights are battery operated, but for the initial set-up (after trying to hide a flash under the lampshade), I had to instead turn the background lamp "on" in Photoshop.   Luckily, the electricity came back on in time for the 'keeper' shot below.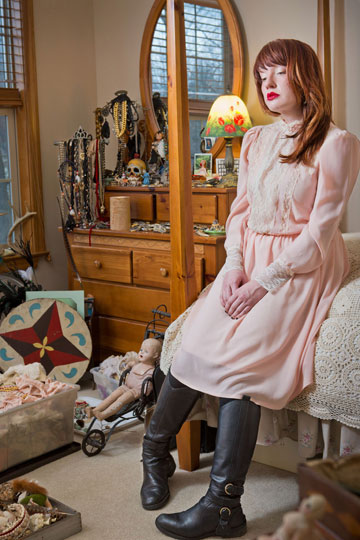 Amber also remembered that Goblinhood had visited her high school class to speak on subversive politics,  and when I had pizza with Jim later that night, he was very pleased to hear that both of these younger artists confirmed a collectively memorable legacy for Goblinhood around the Columbus art scene.  It also happened to be what Jim considered to be GH's 20 year birthday, and Jim said that [he] couldn't have had a better present!
Amber has collections of funerary and other vintage photographs, specimens including moths, butterflies — as well as boxes of found and collected objects often used in her artworks.  The doll figures are sculpted by her and oven-baked into their final form.  Not an appropriator of 'loaded' imagery, Amber's work reflects her life:  Amber Groome's Lindsay Gallery page.
| | |
| --- | --- |
| | |
| "Doll House" © Amber Groome / courtesy Lindsay Gallery | "11 Doll Box" © Amber Groome / courtesy Lindsay Gallery |