Prophet Isaiah Robertson; Niagara Falls, New York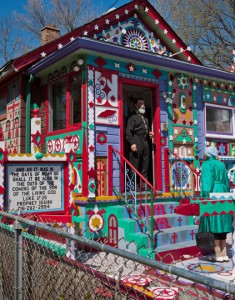 "This is not the work of man," says Prophet Isaiah Robertson in his soothing Canadian/Jamaican accented voice, "no man could be capable of this."  Much like the rest of us, he stands back in out-of-body awe, and almost giggles with delight to behold what has been wrought.  Working without plans, he accepts no credit for the precise and intricately fitted designs made material through his Servant of God labors.  Frequently punctuating his sentences with "praise God, "hallelujah," or "praise his holy name" incantations, he explains that "the Spirit" simply takes over and animates his carpenter-trained hands.  Located on Ontario Avenue– a moderately busy thoroughfare in a downscale residential section of Niagara Falls, NY, the sight of his house stops passing cars, and throughout the day windows roll down to reveal smiling, but puzzled cellphone photographers.  Neighborhood passers-by knowingly confirm that "he is a prophet," sometimes ringing the doorbell to make partial small loan re-payments, or to receive spiritual guidance from the Prophet's front steps.
Just before her early death when he was 12 years old, Isaiah's mother received a vision that the Lord had special plans for her son.  As a young man in Jamaica, she had taught him to pray for Salvation, and following Jesus' example, he became a carpenter and built h
is first house without having been trained in carpentry.  Born in 1947, Isaiah Robertson emigrated to Canada at the age of 24, and worked primarily in the construction trades.  Surprised by the low cost of fixer-up housing stock across the border in Niagara Falls, he moved there from Ontario in 2004, and began to renovate and resell houses.  Never having been artistically inclined, Robertson left behind an unremarkable residence and no hints of his near-future undertakings.
 left:   Looking towards the healing cross from the front porch side window.                   right:   Praying over Noah's rainbow covenant.   
Mount Erie Baptist Church – Site of Prophet Isaiah Robertson's First Prophecy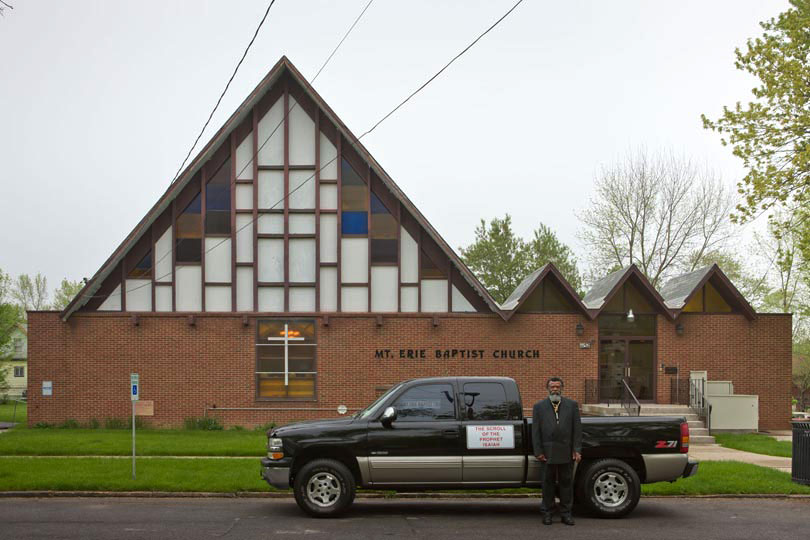 A few blocks from his Niagara Falls home, Prophet Isaiah is a parishioner (not a preacher) at the Mount Erie Baptist Church, and its three-story sanctuary is the site of his "first prophesy"– that The Jubilee (a year of forgiveness and redemption) [began] in 2006.  A guest speaker at an outdoor spiritual  revival event could sense there was a person with the gift of prophecy in their midst.  Not long after, Prophet Isaiah covered the interior walls with an architectural inlay of inter-locking stained wood panels.   With a laser pointer, he shows where apparently accidental grain-cut patterns are actually symbols from God.  Originally hired by the church to simply sheetrock and panel the walls, God instead directed Prophet Isaiah to use oak, and the golden-brown hues provide a rich ground for countless applied wood cut-outs.
At first, these cut-outs appear mostly abstract and perhaps decorative, but Prophet Isaiah can explain the meaning of each one.  A simplified shape with straight and curved lines, for example, represents the Lamb of God.  To celebrate the first day of The Jubilee in the summer of 2006, Prophet Isaiah placed and lit over 1,000 candles around his Ontario Avenue home and property.
  please click here for Prophet Isaiah Robertson (pg 2): The Second Prophesy