Prophet Isaiah Robertson (pg 2)
1308 Ontario Ave. Niagara Falls, NY  –  Site of the Prophet Isaiah Robertson's Second Prophecy
Prophet Isaiah's  "second prophecy"– that The Rapture (the second coming of Christ and the ascension of the Saved) would occur in 2014, began with symbolic bead patterns on the floors, and candle placements inside his home.  A dedicated "Holy Room" stays locked when not being used for prayer and communication with God, but an overflowing of candles and beads can be seen throughout the house.  Containing and outlining the patterns are lines of purple beads that represent the path to Salvation.  Later, directed to announce his message and offer a source of healing to the world, Prophet Isaiah built a 25 foot wooden cross at the head of his stone driveway, and soon covered it and his home with messages from this second prophecy.
Brought back in his black "The Scroll of Prophet Isaiah" signed pick-up truck, there is a 300 pound rock from Three Sister's Island (near the Falls) mounted to the front of his house.   Prophet Isaiah visits the island daily– there in 2014, people from all over the earth will approach Jesus, who seated high up ("like the cross"), will direct believers to the right into Salvation, while the heathen will be sent leftward into a lake of fire at the base of the Falls.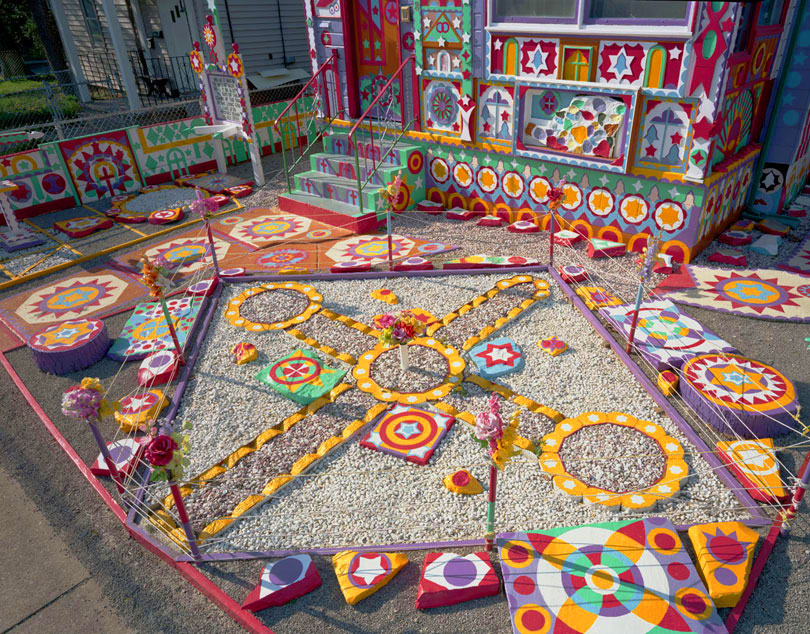 Throughout his home site there are stars symbolizing scattered believers worldwide, an Amish hex-like symbol for the Lost Tribes of Israel, Stars of David "for the Jewish people,"  and numerous other designs– all making biblical references.  Prophet Isaiah's rock garden front yard includes a sepulchre: bone-white painted stones form a petroglyph-like body of Christ, as well as a red rock, encircled by red-crossed green rocks, that symbolizes Goat Island— which splits the Falls, and where followers (sheep) will be separated from the unsaved (goats).
| | |
| --- | --- |
| | |
It can surely be said that Niagara Falls is a spectacle of biblical proportions. With the worldwide reach of its 'charismatic' pull, awesome grandeur, and dismissive sweeping away of vainglorious human challengers, it would seem a natural location for the Second Coming.  Prophet Isaiah intended to move back to Canada after his construction work in the States was complete, but once the "second prophecy" had come to him, it became essential to remain in residence near the Falls.  He sees the perpetual rainbow over the Horseshoe Falls as a sacred covenant, and has identified the roar of the Falls as "the voice of God"– bellowing out of that tangled, flowing mist of a white beard and arresting all comers.  For centuries, Native American cultures have recognized such a spirit embodiment, and have held holy this force of nature.  The word "Niagara" comes from the Onguiaahra native tribe, and means "Thunder of Waters."
According to his prophecy, three years of Middle-Eastern war (Armageddon) will lead to the prophesied events of 2014.  Having added considerable new symbolic density since I began photographing his site in 2010, Prophet Isaiah seems, as of summer 2012, to be mostly finished with the visual expression of this "second prophecy."  At age 65, he sure-footedly climbs 30 foot ladders, and concentrates primarily on re-painting, and maintaining the vision in pristine condition.  The cross and other wooden structures have held up solidly under withering winds, but paint on the rocks and walkways is prone to chipping and peeling, and accordingly I have sometimes delayed photographing certain views.  Typically, I return to find that instead of re-creating the previous patterns, Prophet Isaiah has been directed to paint entirely new symbolic designs.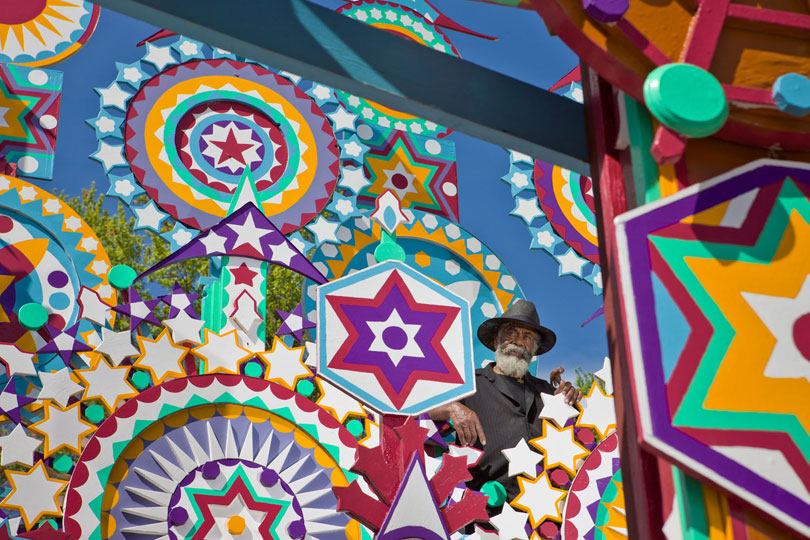 | | |
| --- | --- |
| | |
| | |
| --- | --- |
| | |
When I'm finishing up a photo session and preparing to leave, Prophet Isaiah always asks "Brother Fred" "to drive safely and call no matter what time you get home," and despite sometimes departing around 10:00 PM for the 2 1/2 hour drive, I do, and after confirming a safe return, he'll invariably say, "praise the Lord."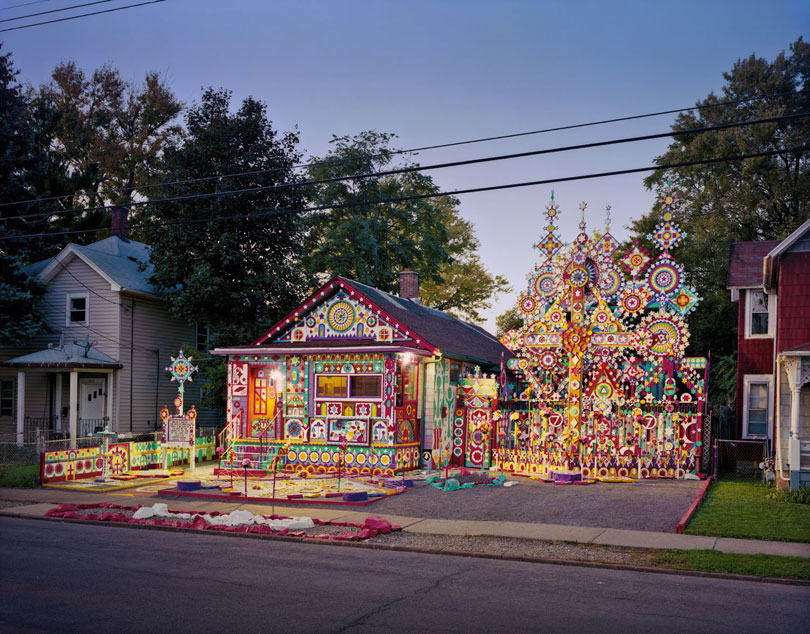 Concerned, from Biblical warnings about the End Times, that he might be thought a false prophet, Prophet Isaiah reminds us that, "you will know them by their fruits."  The contemplative, restrained, and monochromatically elegant look of the Mount Erie Baptist Church sanctuary ("the temple") contrasts remarkably with the kaleidoscopic rainbow-covenant colors of his residential site.  Further evidence, no doubt, that neither could be, as Prophet Isaiah says, "the work of one man."