Ronald Mann; Clio, Michigan
Ron Mann is a Vietnam veteran with post-traumatic-stress-disorder [PTSD].  His late wife Rickie was an amateur painter, and he began to paint (for the first time) in the early 90's using supplies she had left around the home.  Having been drafted before graduating high school, the images came from the emotionally consuming experiences of being a helicopter door gunner.  Ron's earliest works were painted in black and white, and many traveled extensively for the exhibition "Trauma and Metamorphosis" organized by the National Veterans Art Museum in Chicago.
More recently, Ron's canvas' have often become colorful, and his inspirations have widened into the post-Vietnam era, and contemporary culture.
all non-photographic artworks on this page © Ronald Mann
all photographs © Ronald Mann or Fred Scruton
(thanks to Dr. Karl Michel for providing two of the above vintage 'flashovers' as Ron's originals are lost)
Ron has moved back to his hometown of Clio, Michigan, and in addition to painting, he continues to experiment with video, and photography of slide projections of his paintings onto groups of paintings, himself and other models.
I shamelessly "appropriated" Ron's slide projection re-photography idea for this 2011 portrait:
Ron's artworks serve as a protective shield for his psyche, and he doesn't offer his paintings for sale.  At home he fully surrounds himself with the emotional relief and comfort that the process of making art has given him: its provided his most effective outlet for coping with the scars of war.  Traumatic memories play over and over in  Ron's head, and he can explain a specific narrative for each painting.  He thinks that without art, he would be suicidal.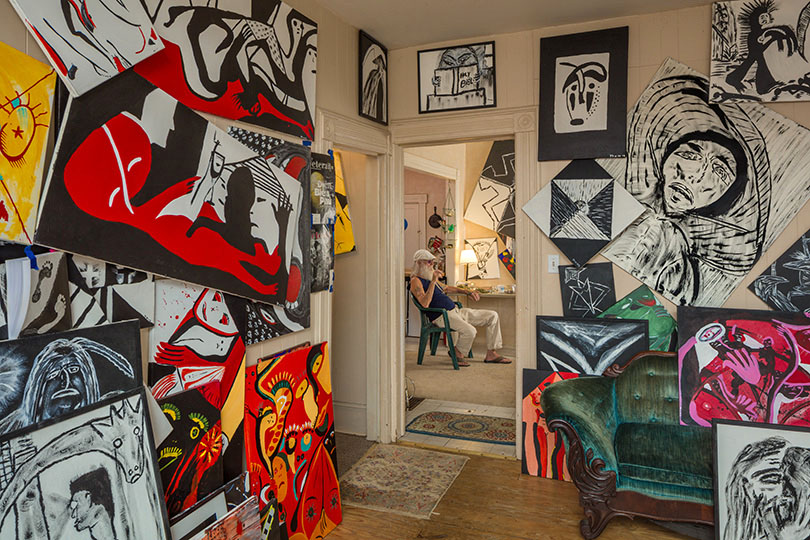 I met Ron after my wife Cheryl saw a 2009 article on him in the Flint (Michigan) Journal.
In 2013, several of Ron's paintings were exhibited at the Ukrainian National Museum in Chicago, and the Greater Flint Arts Council showed about a dozen of his photo projections.  Additional exhibitions are currently in the works.
  Left: One of Ron's photographs made by projecting slides of his paintings onto other paintings.
Right: Ron's photograph of a slide projection of his white silhouette self-portrait painting (see top left in the painting gallery below) on other paintings.
Self-taught artist Ron Mann's Paintings
(the paintings range from about 2 feet up to around 6 feet in the longest dimension)
(another shameless appropriation of Ron's idea by Fred):
Ron Mann's recent Slide Projections and re-photography of his Paintings
The slide projection photographs symbolize the disturbing, chaotic, and endlessly churning memories that never stop flashing back into Ron's mind.