William Brady Jr; Centerville, Pennsylvania
Outsider artist, self-taught sculptor Bill Brady; Centerville, PA 2011
In 1963, Philadelphia steelworker William Brady, Sr. moved his family to northwestern Pennsylvania to take a superintendant position at Universal-Cyclops Steel in Titusville, Pa.  Bill Sr. was an accomplished artisan who spent most of his free time crafting decorative works in his fully equipped blacksmithing shop.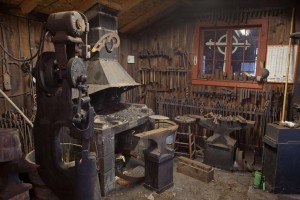 Born in 1943, Bill Jr.'s severe dyslexia was un-recognized in the 1950's, and it prevents him, to this day, from being able to read or write.  While in school, Bill frequently snuck off to work in an empty art studio, and he did well in academic courses when the teachers were willing to read the test questions to him. However, his inability to learn reading and writing was thought, at the time, to be the result of a lazy or un-motivated attitude.  At the age of 17, Bill had finished 9th grade, but was considered "ineducable" and was discouraged from continuing on to high school.  He took jobs with a seed and two shipbuilding companies in the Philadelphia area, and as a logger after the family's move to western Pennsylvania.
In his early twenties, Bill moved-out on his own to Cape Cod, and worked a variety of jobs– often in construction and carpentry,  Working simultaneously in a shipyard and as a short-order cook, Bill began to ply his interest in tinsmithing, and for several years he made and sold reproductions of early American tinware (such as lanterns, chandeliers, sconces, and candle holders).
| | |
| --- | --- |
| | |
While living in Maine, he became friends with Clark Fitz-Gerald (d 2004), a professionally successful sculptor, and with his encouragement, Bill began to consider the possibility of metalsmithing as a profession.  After a move to Boston in his late 20's, Bill continued with his early American line, and also began to create personal sculptures from images and movements that came into his mind's eye.  Bill's sketchbook drawings have sometimes become sculptures years (or decades) later, and also include drawings of planes, ice boats (including one he built), futuristic housing design, dirigible barns, wall paintings, high atmosphere kite-driven sailboats, and hot air balloons (among other things!).
| | | |
| --- | --- | --- |
| | | |
| | Comet Two, w: ~40 in | Pivot, h: 23 in |
| | | |
| --- | --- | --- |
| | | |
| Alien Insect, h: 31 in | Last Chance, h: 28 in | Blue Eye, h: 21 in |
Influenced by the bus mobility of 60's youth culture, Bill bought a surplus Navy school bus for $900, customized the front for living, and opened-up the rear into a glass-enclosed metal shop.  Along with periodic odd jobs, Bill primarily made his living from the early American reproductions, and his own lighting fixture designs.  He returned to the Centerville, Pa family home after about seven years in New England, and he drove the bus to California around a year later.
Running out of gas in Santa Cruz, Bill settled in with the local counter-culture scene, and regularly sold his wares at a weekend Drive-In turned flea market.   Parked and living on something of a 'bus commune' (called "the freedom farm" by its residents, and located on an abandoned apricot orchard), and again residing near a harbor, he also found odd jobs working on private boats.
Bill and a friend in Big Sur, Ca., bought a pair of ultra-light airplane kits, built them, and then after first learning to fly glider planes, taught themselves to fly the ultra-lights.  Since his youth, Bill had always dreamed of flying, two uncles had been WW II fighter pilots, and while flying himself over the crashing coastal waves, he recalled having been told in his youth that he was "too stupid" to learn to fly.
In the mid 1980's, Bill drove his bus back to Centerville, and parked it in the backyard of the rural family property, where it remains to this day.  Through the skylight windows above and around the sleeping loft in his bus, Bill resides within the rhythms of the natural landscape, and sees dazzling starry vistas against a deep black sky.  The family home offers certain amenities missing from his 'low-budget RV', but the wood-stove heated bus remains Bill's domicile.  Bill now tinsmiths only his own sculptural creations, and exhibits periodically in northwestern Pennsylvania.  Visual ideas just pop into his head, onto a sketchbook page,and eventually out of his forge.
Examples of Bill's shopping lists
| | | |
| --- | --- | --- |
| | | |
| (honey jar, olive oil, ?, bananas,onions, cat food, milk) | (bird seed, corn [deer feed],bird suet, bag of ?, cat litter) | (solder flux, roll of solder, tin sheets,3/16th in. welding rods, 1/4 in. bolt) |
Although it appears impossible to identify clear sources, there seem to be recurring transportation themes mixed with the (apparently) more purely abstract or figurative. Bill's language skills have been fully developed throughout his life, and he 'reads' about two books on tape a month through headphones while he works.  I'm not sure that Bill's work is any more 'non-verbal'  than the work of many artists– perhaps especially compared to other 'outsider' artists, and whatever direct connection there may be between the dyslexia and the imagery remains elusive to this observer.  That condition, along with stuttering problems, have always made Bill something of an 'outsider' in society, and that no doubt contributes to the uniqueness of his vision.
| | | |
| --- | --- | --- |
| | | |
| | Alien Relic, h: ~32 in | |
| | | |
| | Spaceship One, h: ~42 in | |
| | | |
| untitled, 2013 | McEnroe, w: ~16 in |  untitled, 2013 |
Bill belongs to a club of local amateur aviators, and for 14 years, using plans first published in the 1930's, he has been building (from scratch) a "Georgias Special" single seat airplane.
Bill and his stepmother Kathy have always been receptive and gracious hosts to my repeated visits, and Bill seems at peace that this long journey has brought him somewhat hermitically back to nature, and back home to northwestern Pennsylvania probably to stay.  Bill and I are currently in the process of getting parts of his story into video, and I would be happy to pass along any further inquiries there might be about Bill and his work.
please click here for William Brady page 2