Late December 2012 visit to Prophet Isaiah Robertson; Niagara Falls, NY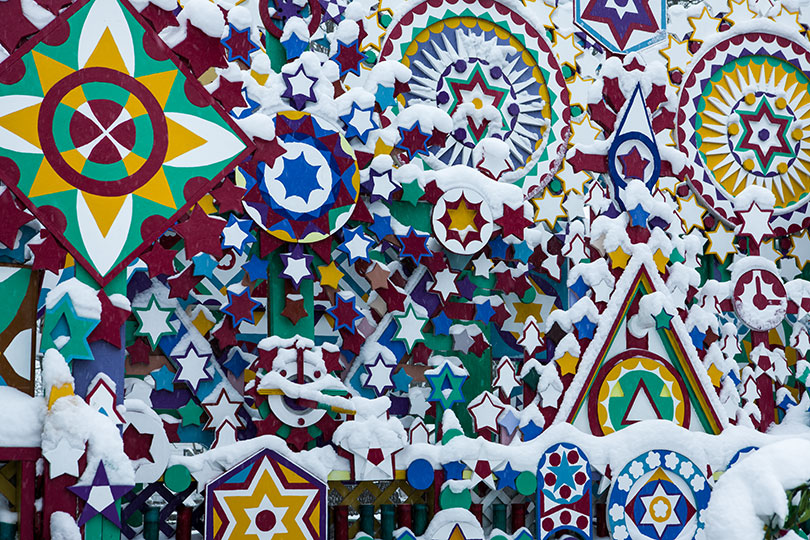 Winter 2011/12 seemed like an historical rarity for western New York state: very little snow, and so the plan to photograph Prophet Isaiah's home site under a heavenly dusting had been on hold for over a year.  The first snow this winter came while Cheryl & I were on a Christmas visit with relatives in South Carolina, and Prophet Isaiah had his granddaughter text me pictures that came in while we were driving home:
 (~courtesy Prophet Isaiah's granddaughter~)
With no blue sky in the extended forecast, and Prophet Isaiah's assurance that the especially picturesque snow clumpings were still in place, I drove eastward past Erie, PA two days later.  About half an hour from Niagara Falls, and still driving through a light snow shower that continued for the entire day, he called for my ETA, and was out shoveling and sweeping the painted sidewalks as I arrived.  Occasionally, the umbrella used to try and keep snow off the camera, would accidentally dip into the frame…
The snow burst effect came from a strobe (flash) hidden behind Prophet Isaiah.
As dusk began to set in, Prophet Isaiah's porch and display lights provided the sunlight that had been missing all day.
And finally into the early evening, I couldn't help but make photographs that show a lot more evidence of the photographer's 'footprints' than I usually find acceptable!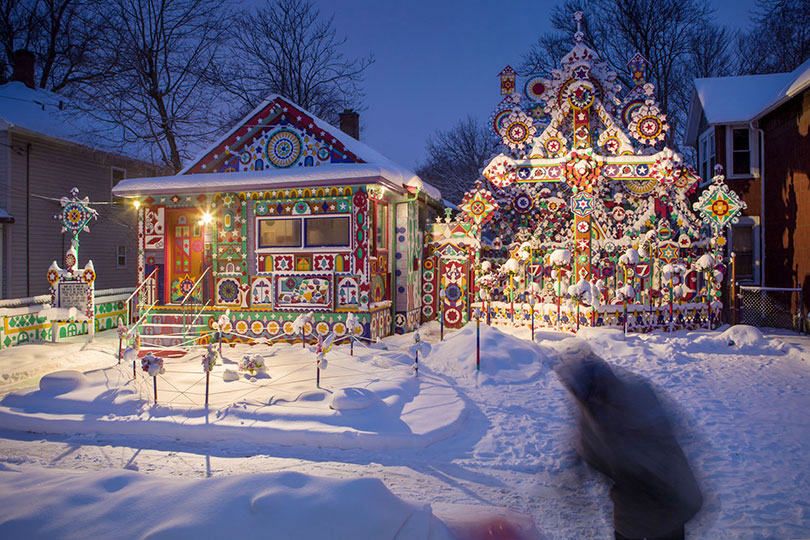 Once the light in the sky had faded, my equipment had been packed away, and we were finished brushing the days accumulation off my car, Prophet Isaiah and I paused to be bathed in the glowing spectacle, and he observed that, "no man can create such beauty– this could only be the work of God."  I agreed, and a couple hours later, driving slowly westward past Erie on a still snowy Rt. 90, Prophet Isaiah called and asked me to call and confirm a safe arrival home.