Willie Jordan; Erie, Pennsylvania (pg 2)
The Passage North, Willie Jordan's installation at the Erie, Pennsylvania Art Museum 2011-12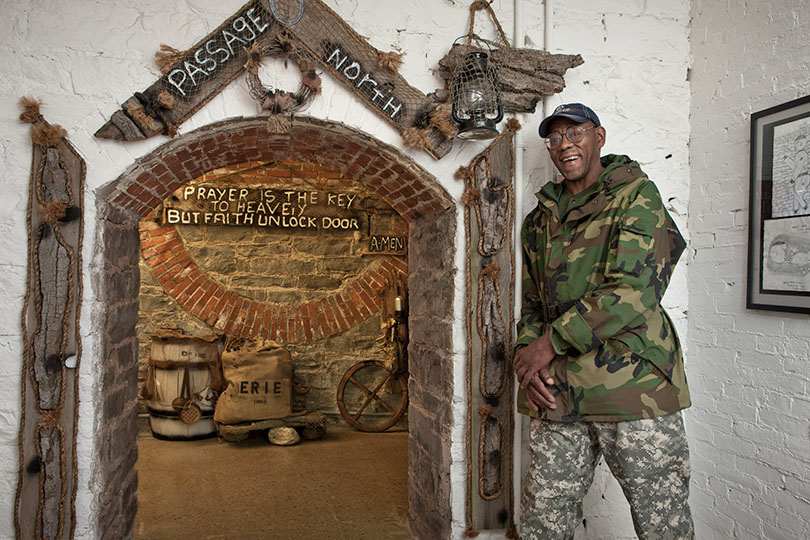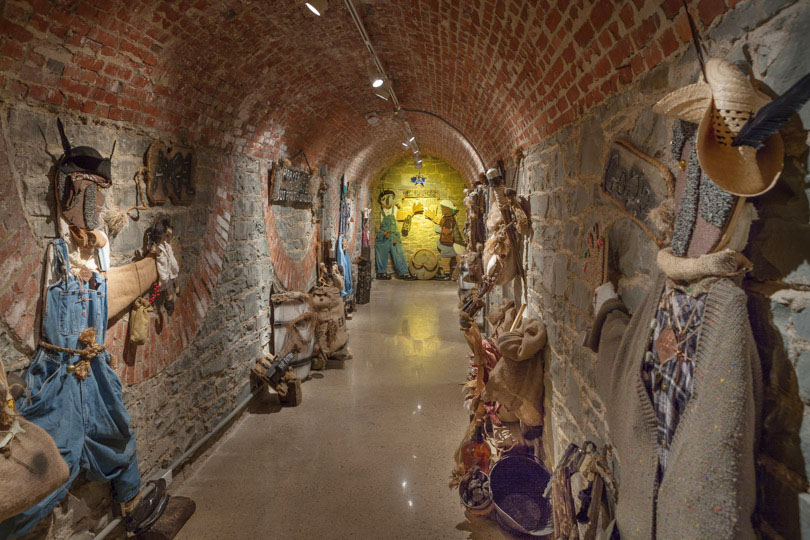 Willie was offered the first installation opportunity in the newly renovated barrel vault space under the old marble stairs entrance to the Museum by Director John Vanco in 2011.  When he first entered he could feel the presence of escaped slaves passing through a portion of the Underground Railroad.  The Museum is less than a mile from the Lake Erie shore where Jordan envisioned awaiting boats for Canada.  Despite having primarily worked as an assemblage artist, Willie measured the dimensions and sketched the figures he saw– they would come back to life as clothed wood cutouts mounted to the brick walls.  The installation opened in August 2011 and Willie would typically visit a few times weekly during its one year duration.  He was a sort of gardener to an ever changing and growing installation.  The figures had individual names and he conversed with them in his mind– often feeling an emotional need to check in and see how they were doing before heading off to his afternoon work shift.   Willie gave the figures scarves and sweaters for the winter cold, and put change in their pockets so they wouldn't be penniless on their journey to freedom.  He added dried flowers and berries as new seasons provided, and mounted shelves to display symbolic artifacts from the journey.
 Preparatory Installation sketches
 Preparing the installation
               Installation Details
Top left:  Like cartoon speech balloons, shaped wood cutouts outlined with rope and burned-in lettering gave voice to the figures.  A dumpster full of scraps behind a carpet store provided skin, hair, and animal fur. 
Top right:  Burlap sacks and a wooden barrel with metal hoop supports hold provisions for the journey. Candles, a lantern, and the bible show the way through a dark passage into the golden light while a father holding a bleeding baby girl reaches towards the north star hanging in front of an air vent and twinkling from air movement at the tunnel's north end.  
Middle left:  Willie felt deep sorrow over fellow passengers who were captured by bounty hunters, died from disease, and suffered other hardships along the way. 
Middle right:  Surrounded by barbed wire, the bottom shelf displays a miniature plantation house (center right) and a small stolen provision of precious seeds (left) for the journey.
Bottom left:  Shelf detail showing artifacts from the journey.
Bottom middle:  Jordan reflected in his broken mirror angel hanging opposite the north star end of the tunnel. 
Bottom right:  A bloodied noose, and blackened lynching victim wrapped in rope (back left corner).
_______________________________________________________________
Left:  Boots cobbled together out of rubber scrap and bicycle tire treads.
Right:  South end of the tunnel with mirror angel, adult, children, and babies.
_______________________________________________________________
(please click here to return to Willie Jordan, pg 1)